Africa revisited
Last updated 2007.11.21
A wealth of information on Tanzania is available on the Internettet. This is a very short introduction.
Tanzania is situated on the eastern coast of Africa just south of the equator
Area: 945.000 km2 (mainland: 881.000) ~ ca. 19 times as large as Danmark
Population (estimated 2002): 33 millions
Tanzania is among the poorest countries in the world, GNP/capita (estimated 2001): 246 $
The highest point in Africa, Mount Kilimanjaro, is situated in Tanzania close to the city Moshi just south of the Kenyan border
The lowest point in Africa is also situated in Tanzania, at the bottom of Lake Tanganyika, some 350 m below sea level
The islands Zanzibar, Pemba, Mafia and the whole archipelago has been an arab sultanate
Under the name German East Africa the mainland part (Tanganyika) was under German jurisdiction until World War 1
After WW1 Tanganyika became et british protectorate
Tanganyika gained independence in 1962 and united with the sultanate Zanzibar under the name Tanzania
Close to 25 % of the area of Tanzania is under some kind of protection, as national parc, "Conservation Area" eller "Game Reserve"
Capital: Dodoma
Largest cities: 1. Dar es Salaam, 2. Mwanza
Flag: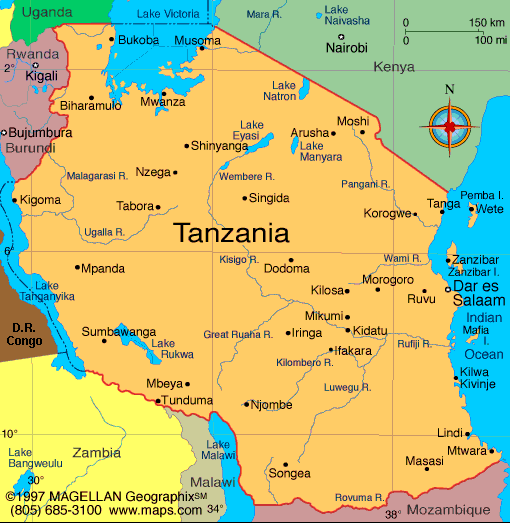 Click on the map above to see a more detailed map of that part of Tanzania (150 - 300 kb). Click here to see a large and detailed map (1.4 Mb).
Links: