Africa revisited
Last updated 2007.11.21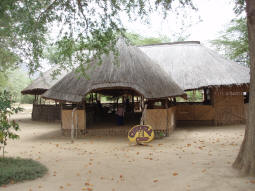 Thursday 20 July we headed for Ruaha National Park. That is, we went from Iringa to a camp site a short distance outside the park boundary. The camp site, called Chogela Camp in the village of Tungamalenga, was a pleasant surprise, very well designed and maintained. The camp site is owned and run by an old acquaintance of Japhet, who has settled down here with his family, running the camp site as his business and growing some crops as well for subsistence. Immediately, it was apparent that the camp site was taken care of by someone who was really dedicated to his job and also that it was designed by someone who was very familiar with the needs and desires of more neat-and-simple-oriented tourists like us. We fell in love with the place right away. And the owner and attendant turned out to be very kind and helpful, too.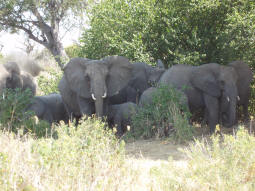 The following day we went on safari in Ruaha National Park. Ruaha is the second largest national park in Tanzania and covers some 10.300 km2. Ruaha is reckoned for hosting the largest herd of elephants in Africa, some 12.000 individuals. Also, it is reckoned for hosting both greater and lesser kudu as well as other antelope species like impala, waterbuck, bushbuck, grant's gazelle, sable antelope and roan antelope.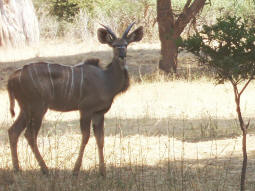 For the first time we saw the greater kudu, actually we saw quite a number of them, some 25-30 individuals. Also, we saw a great number of impalas and elephants, as well as giraffes and zebras. A few waterbucks and a single grant's gazelle, but no luck with the bushbuck, sable antelope or roan antelope.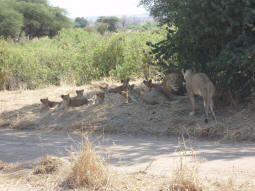 But we had great luck with lions. The first group was a family with a male, at least three females and no less than nine cups. I have never seen that many cups in a single family. The second group comprised at least five individuals but the exact number is uncertain as some of them were hiding in the tall grass. The lions had killed a small giraffe, probably the preceding day, and they were still eating of it.
We were all quite exhausted when we returned to the camp site just before sunset.
We had a discussion about going straight to Dodoma or just going back to Iringa and then go from there to Dodoma the following day. In the end we decided to stay over at Iringa, as going straight to Dodoma could be some nine to ten hours of driving and we considered that to be too exhausting. So now we are staying at Isimila Hotel in Iringa for the second time.