Africa revisited
Last updated 2007.11.21
We have spent some very good days here at Matema Lake Shore Resort. The day after our arrival we had a little safari by canoe to a nearby village, Ikombe, which is accessible by boat only. It was an experience by itself to travel in a wooden, dugout canoe. At Ikombe there is a production of local pottery and it was very interesting to see the women (pottery is women's work) make some fine pots and jars with very simple tools. Also, it was interesting to get real close to village life, probably the closest we'll get.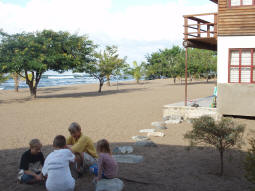 The following two days we have just spent here at the Lake Shore Resort. It is really a nice place and we have all enjoyed it in it's full extent, relaxing, swimming, reading, playing cards and other games. Yesterday, there was some fairly big waves on the lake and the kids enjoyed jumping around in the water, becoming quite exhausted. Today the lake has been a lot calmer. Actually, it was the plan to move on today, but the kids insisted on staying for another day. And it's their journey too, isn't it?
Tomorrow we'll move on to Bulongwa, stay tuned.