Africa revisited
Last updated 2007.11.21
With a sad sentiment we left Matema Lake Shore Resort. Next port of call was the small village Bulongwa, which would be completely unmemorable was it not for the most magnificent setting. We (I) had counted on the existence of a fairly direct road from Matema to Bulongwa, but local knowledge assured us that there was no other way than going almost all the way back to Mbeya and cross over the Poroto and Kipengere mountain ranges. The road took us to very high altitudes, more than 2900 m asl. In the end we arrived at the little village of Bulongwa just to find ourselves only 18 km from the starting point but almost 2 km above, a detour of some 200 km to get there. We had absolutely no idea nor prior information about were to stay at Bulongwa, but everywhere there are local guesthouses, though some very, very basic. However, the best guesthouse in Bulongwa (for some reason called Dodoma Guest House) was not that basic, quiet and clean, but smelling a lot of the recently applied paint. But what can you expect for the price of 4000 Tanzanian schillings (some US$ 3) for all the five of us.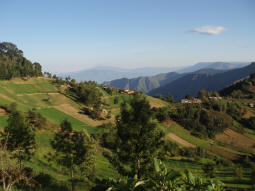 Next morning offered both some magnificent views and the lowest temperature recorded so far, just 8 º C. Poor Japhet, he found it freezing cold.
The local café was not yet ready to serve morning tea so we made a little excursion of some 10 km to a point with the most fabulous view to all sides, to the Rungwe Mountain to the northwest, to the Poroto and Kipengere Ranges to the north, to Lake Nyasa to the southwest and to the Livingstone Mountains to the south. Unfortunately, the view over the lake was rather misty, otherwise we might have been able to enjoy a view all the way to Malawi and the mountain range there, on the western side of the lake. It was rather weird standing there, looking down at Matema just 12 km away but more than 1600 m below. Actually, we were able to distinguish the red roofs of the Lake Shore Resort, where we had spent four days.
Having tea and some chapati (flat bread baked in a frying pan, NOT pancakes) at a little café en route we continued our journey towards the town Njombe. The road brought us through very different landscapes, some very fertile, other fairly dry, all depending on the slope being towards the south or the north. But all the way it was going up and down and around and more up, down and around, as it is going around in mountainous areas.
We have installed ourselves at the best hotel in Njombe, the Chani Hotel. Njombe is reckoned to be the coldest town in Tanzania and here at the hotel the temperature indoor is around 18 º C. Wonder what the temperature will be in the morning...